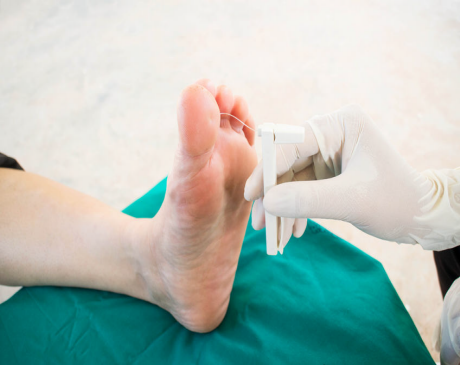 Why Diabetic Foot Care is so important?
The leading cause of lower limb amputation is vascular disease, secondary to diabetes and peripheral arterial disease
Of persons with diabetes who have a lower extremity amputation, up to 55% will require amputation of the second leg within 2-3 years
The average survival rate of an individual with a lower extremity amputation is 5 years following the first amputation
85% of all lower extremity amputations in Canada are PREVENTABLE!
Individuals diagnosed with diabetes are more prone to various foot problems due to the development of nerve damage, also known as diabetic peripheral neuropathy, most commonly affecting your feet and eyes
Having a foot specialist care for your feet, upon diagnosis of diabetes is paramount to maintain healthy feet
Careful daily inspection of your feet is one of the easiest, most effective and least expensive habits in preventing foot complications
A Bi-annual examination by your chiropodist or podiatrist is critical for individuals diagnosed with diabetes, which may lead to an early detection of skin or nerve changes due to diabetes
Your chiropodist at Unique Family Chiropractic and Wellness Centre will educate you on measures you can take to assess, monitor and prevent lower extremity complications due to diabetes
What are the benefits of going to see a foot specialist?
There are several benefits to paying a visit to a chiropodist, also known as a foot specialist. Pain relief tends to be the biggest benefit for those suffering from issues such as heel spurs and plantar fasciitis. Chiropodists can also prescribe your custom orthotics that will help manage foot deformities, such as bunions. Custom orthotics can also improve posture and help patients hold their chiropractic adjustments longer. There are other symptoms like nail fungus, ingrown nails and many others. A licensed and knowledgeable chiropodist can help you get relief from several aches and pain. When it comes to your foot health and associated foot care, trust your feet in the hands of a friendly professional.
To summarize some of the benefits:
Relieve Your Pain
Improve foot deformities
Improved posture
and many more....